YouTube Affiliation - Normal Guy Supercar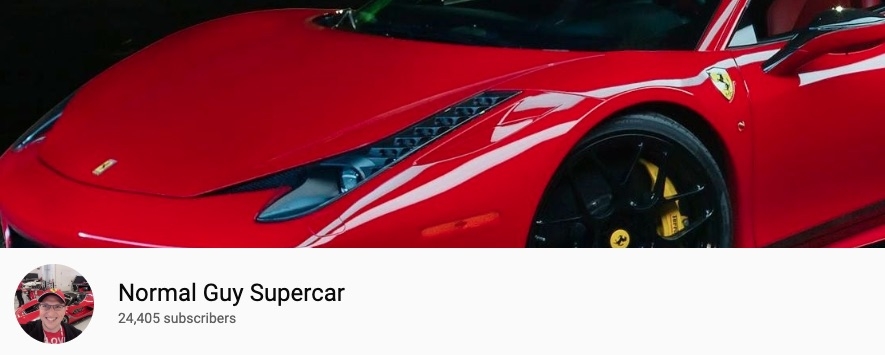 Ricambi America is proud to sponsor the YouTube channel of Normal Guy Supercar. "NGSC" (Daniel Hurlbert) presents Ferrari ownership, maintainance, and all-around automobilia from the persepective of a non-professional. His channel was created to help educate current and future Supercar owners about the experience of purchasing, owning, maintaining, and living with a supercar. You can expect to see DIY maintenance, cost breakdowns, myth busting, opinions, experiences, friendships, and the adventures that come with owning a supercar. His casual and humorous style have made him one of the fastest growing YouTube presenters in the exotic car arena.
Ricambi America has provided Dan with a variety of original and aftermarket Ferrari parts to install on his F430 and 458 Italia. Some projects are easy, some are more difficult... and some are downright disasterous (how about a bath in motor oil?), but all of his Ferrari maintainance projects are truthfully documented on YouTube for everyone to enjoy. When his local friends in the Austin, Texas area call on him for help with their Ferrari DIY services, Dan is able to turn wrenches on an even wider range of Ferraris using parts from Ricambi America. Whether the Normal Guy Supercar is installing suspension ball joints, an air horn, or something as complex as a Ferrari 360 clutch, his videos will certainly inpire other owners to embark on their own DIY efforts.
Grab some popcorn, watch some past videos, and subscribe to his channel for almost daily content.
Featured Videos
How to replace the upper ball joints on a Ferrari F430 or 360 : Video Link - Text Transcript

Installing a REAL FERRARI AIR HORN in my Ferrari F430 : Video Link - Text Transcript

Modding a FERRARI 458 with Air Horn, Carbon Wings, & Dead Pedal : Video Link - Text Transcript

How to change the coolant, thermostat, & accessory belt on a Ferrari F430 : Video Link - Text Transcript

CHEAP & EASY way to make your stock Ferrari look MUCH BETTER! : Video Link - Text Transcript

How to change the oil in a Ferrari f48 Italia: Video Link